Post by mrclaypole on Aug 18, 2011 14:36:52 GMT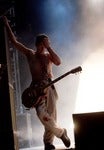 also of course going back to having little money will hurt..
But ill be relived mostly..
Its a great shame that us guys cant get on...
Its not rocket science to make sure everybody knows whats happening and has a say..
But when you have an inner core who dont care whether the rest like their plans or even know the plot - just going ahead anyway.
An independant manager/Co-ordenator would of been fair and would of helped..
But its all too late for that now..
At least alot of fans young and old got a chance to see the real deal before we got too old to Skank*
I take it this really will be the end after this last tour?. I agree with all of your above points, it really isnt hard to at least inform someone in a group of whats happening and yes Im glad I saw the Specials 4 times in my lifetime, I was too young 1st time around, I thought I never would.
But for the sake of your health, im glad your cutting the ties, theres no point worrying yourself sick over something you cant control, its best just to cut it out entirely. Ive had to cut ties with a girl I knew over the weekend as she was making me sick, Im alittle bit lost without the relationship, but to be honest it was doing me more harm than good and Im feeling liberated that I wont have to put up with anymore of the lies, emotional blackmail and childish immaturity I wouldnt expect of a 38 year old woman.
As for the money, youve survived before the reformation, theres no reason why you cant survive after........at least youll have the SKABs and still have the chance to play music live. Im sure after the Specials pack up hopefully you'll have picked up more followers, its bound to happen.
I wish you all the best in your future endevours, I look forward to some more gigs with the SKABs, I think the Specials are out this year since I got that Tax credit overpayment bill this morning, its screwed my day up and im going to head somewhere to get a nice long alcoholic drink.